Violoncello by Michael Ignaz Stadlmann
Vienna, c. 1780
Catalog 64. Violoncello – Michael Ignaz Stadlmann – Wien, um 1780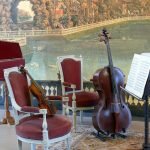 Château de Lunéville, France (May-June, 2009)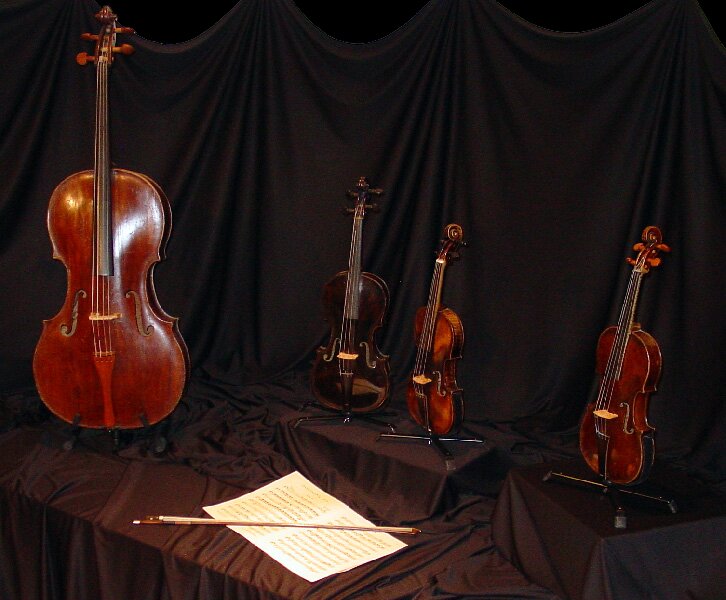 A Viennese String Quartet of the Times of Mozart and Haydn
Violoncello by Michael Ignaz Stadlmann, viola and violin by Johann Joseph Stadlmann, violin by Johann Christoph Leidolff
Château de Lunéville, France (May-June, 2009)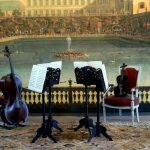 A Viennese String Quartet of the Times of Mozart and Haydn
Violoncello by Michael Ignaz Stadlmann, viola and violin by Johann Joseph Stadlmann, violin by Johann Christoph Leidolff
Château de Lunéville, France (May-June, 2009)
Michael Ignaz was the son of Johann Josephs (1720-1781), who was the son of Daniel Achatius Stadlmann (ca. 1680–1744), the founder of this significant Viennese dynasty. Daniel Achatius was given the monopoly wood in the Habsburg Empire, which is why instruments made by the family have the most wonderful choice of wood. There is one violin and one viola by Johann Joseph in the collection.
Michael Ignatius Stadlmann (1756-1813)
Der letzte Sproß einer bedeutenden Geigenbauerdynastie zu Wien. Sohn des Geigenbauers Johann Josef Stadlmann. Johann Joseph (1720-1781) war der Sohn Daniel Achatius Stadlmanns (um 1680–1744), des Gründers dieser bedeutenden Wiener Geigenbaudynastie des 18. Jahrhunderts. D. A. Stadlmann wurde im Haus des Steegwirts in Bad Goisern geboren. Schon damals war das Anwesen eine Gastwirtschaft, Daniels Vater war auch Holzmeister. Daniel heiratete in Wien in eine Geigenbauerfamilie ein und verfügte sogar über das Monopol des Holzhandels der Innung, weshalb seine Instrumente aus den erlesensten Klanghölzern hergestellt worden sind. Die Stelle des Hofgeigenmachers hatte ab der Jh.mitte J. J. Stadlmann inne, danach blieb sie zunächst unbesetzt. Die notwendigen Arbeiten wurden von Stadlmanns Sohn M. I. Stadlmann besorgt, der auch als Musiker in der Kapelle tätig war. Erst 1796 wurde er als Hofgeigenmacher bestätigt, allerdings mit reduziertem Gehalt.
| | |
| --- | --- |
| Body length | mm |
| Upper width | mm |
| Middle width | mm |
| Lower width | mm |
| Rib height | mm |
| String length | mm |