The Concertos for Viola da Gamba and Orchestra
of Johann Gottlieb Graun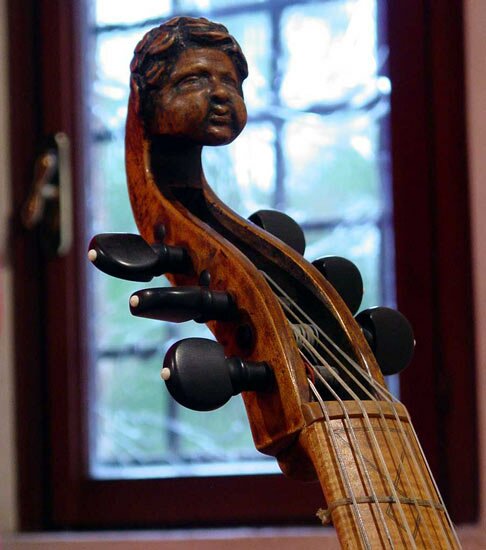 Violas da gamba by NicolausLeidolff
Programme
Johann Gottlieb Graun
Ludwig Christian Hesse
and the Concertos for Viola da gamba and Strings
Johann Gottlieb Graun (1702/3 – 1771) began his musical studies at the famous Kreuzschule in Dresden. Subsequently he acquired his legendary prowess on the violin from two of the most excellent teachers of the time: the Vivaldi disciple, Johann Georg Pisendel in Dresden and Giuseppe Tartini in Padova. Very early in his career, during his service as concertmaster in Merseburg, Graun got acquainted with Johann Christian Hertel (1697-1754), an outstanding viola da gamba virtuoso; they remained friends throughout their lives, corresponding frequently. This may be the reason for Graun's apparent knowledge of the technical possibilities of the viol: his compositions for this instrument – not less than 22 large-scale works are extant – bear witness to this.Frederick II summoned Johann Gottlieb Graun as concertmaster – and with a handsome salary – in 1732 to his orchestra in Ruppin, later in Potsdam: indeed, Graun was the first musician to be appointed by His Majesty, which shows the high esteem this virtuoso enjoyed even at this early date. In 1766 Johann Adam Hiller wrote the following:The concertmaster's great strength on the violin and his excellence in composition are universally known. In both these fields he had much to thank the tutelage of the famous Mr. Johann Georg Pisendel, the former concertmaster of the Prince Elector of Saxony in Dresden. He had also seen Italy and had got acquainted with the playing style of the famous Tartini directly from the master, although he considered it inappropriate to incorporate (into his own playing) the personal aspects of Tartini's art. The compositions of Mr. Graun consist of unusually fiery concertos for one and two violins, of double concertos for other instruments; of concertos for violoncello, viola da gamba, etc., of very many magnificent symphonies , some with many concertante instruments, and of several overtures, of beautiful trios an quartets for divers instruments, of many solos and also a few cantatas, etc.Graun composed at least 8 concertos for the viola da gamba, which would most certainly have never been written, had it not been for the presence of a highly gifted musical personality at the court, namely, the excellent violist da gamba, Ludwig Christian Hesse (1716-1772). Hiller (1766) apparently knew him, too:As musicians in the service of his Highness, the Prince of Prussia are:
Mr. Christian Ludwig Hesse, Viola da gambist, from Darmstadt: the son of the formerly so famous violist da gamba and subsequently Chancellor of War, Mr. Hesse from Darmstadt, and his wife, formerly a famous singer of the German Theatre. The technical accomplishment, the exactness and the fire in performance which Mr. Hesse possesses to such a high degree make him in our times indisputably the greatest violist da gamba in Europe-Not just J. G. Graun, but also, among others, Carl Philipp Emanuel Bach, Christoph Schaffrath, Franz Benda, and Janitsch dedicated a not inconsiderable number of demanding compositions to this singular virtuoso. We must be thankful for this, because it is a fascinating repertoire, despite the difficulties for most players. Nevertheless a certain challenge is to be found in them, which can be commended to every gifted violists da gamba today. May it soon come to an unleashing and dissemination of this musical heritage.
---
Programme
Johann Gottlieb Graun
Ludwig Christian Hesse
Und die Konzerte für Viola da gamba und Streicher
Johann Gottlieb Graun (1702/3 – 1771) studierte zunächst an der Kreuzschule in Dresden, erwarb anschließend seine sagenhafte Kunstfertigkeit auf der Violine bei zwei der hervorragendsten Pädagogen seiner Zeit, dem Vivaldi-Schüler Johann Georg Pisendel in Dresden und Giuseppe Tartini in Padova. Früh, während seiner Anstellung als Konzertmeister in Merseburg, lernte Graun den trefflichen Viol da gambisten Johann Christian Hertel (1697-1754) kennen, mit dem er eine langwährende Freundschaft schloß. Daher vielleicht auch die Vertrautheit Grauns mit den technischen Möglichkeiten unseres Instrumentes, die seine Kompositionen für dieses Instrument – nicht weniger als 22 gewichtige, großangelegte Werke sind uns erhalten! – erkennen lassen.
Als Konzertmeister – und mit einem ansehnlichen Gehalt – berief ihn 1732 Friedrich II zunächst nach Ruppin, später nach Potsdam: Graun war der erste Musiker, die von seiner Majestät ernannt worden ist, was gewiß vom hohen Ansehen zeugt, was Graun bereits zu diesem Zeitpunkt genoß. In der Tat weiß Johann Adam Hiller 1766 Folgendes über Johann Gottlieb Graun zu berichten:
Des Herrn Conzertmeisters große Stärke auf der Violine, und seine vortreffliche Composition, sind allenthalben bekannt. Er hat vieles von der einen sowohl als der andern, der Anweisung des berühmten Herr Joh. Georg Pisendel, ehemaligen königl. Pohlnischen und churfürstl. Sächsischen Concertmeisters in Dresden zu danken. Er hat auch Italien gesehen, und sich die Spielart des berühmten Tartini bey ihm selbst bekannt gemacht: aber nicht ratsam gefunden was besonderes von dem, was jenem allein ist, beyzubehalten. Unseres Herrn Graun Composition besteht in sehr vielen ungemein feurigen Concerten für eine und zwo Violine, aus Doppelconcerten für andere Instrumente: aus Concerten für das Violoncell, die Viola da gamba, u.s.w. aus sehr vielen überaus prächtigen Sinfonien, zum Theil mit vielen concertierenden Instrumenten, und aus einigen Ouvertüren; aus schönen Trios und Quatuors für verschiedene Instrumente; aus vielen Solos, und auch einigen Cantaten, u.s.w.

Graun schrieb mindestens 8 Konzerte für die Viola da gamba, die bestimmt nicht entstanden wären, wenn nicht eine andere höchstqualifizierte Musikerpersönlichkeit am Hoffe anwesend gewesen wäre, nämlich der vorzügliche Viol da gambist Ludwig Christian Hesse (1716-1772). Hiller (1766) kennt ihn offenbar auch:

Bey seiner königl. Hoheit dem Prinzen von Preußen sind als Musici in Diensten:
Herr Christian Ludwig Hesse, Viola da gambist, aus Darmstadt: ein Sohn des ehedem so berühmten Gambisten und nachherigen Kriegsraths Hrn Hesse in Darmstadt, und seiner auf dem ehemaligen deutschen Theater, als eine sehr brave Sängerinn, berühmt gewesenen Gemahlinn. Die Fertigkeit, Nettigkeit und das Feuer in der Ausführung, welches unser Herr Hesse in so hohem Grade besitzet, machen ihn, zu unseren Zeiten, unstreitig zu dem größten Gambisten in Europa.
Ihm widmeten nicht nur J. G. Graun, sondern u.a. auch Carl Philipp Emanuel Bach, Christoph Schaffrath, Franz Benda, die alle am Hofe zu Berlin tätig, eine beträchtliche Anzahl anspruchsvoller Kompositionen. Dafür müssen wir dankbar sein! Denn es ist ein faszinierendes Repertoire, wenn auch für die meisten Spieler doch etwas zu schwer. Dennoch liegt hier eine Aufgabe vor, die einem jeglichen tüchtigen Viol da Gambisten empfohlen werden kann! Möge es bald zu der Erschließung und Verbreitung dieses musikalische Erbe führen!
.