The Orpheon Consort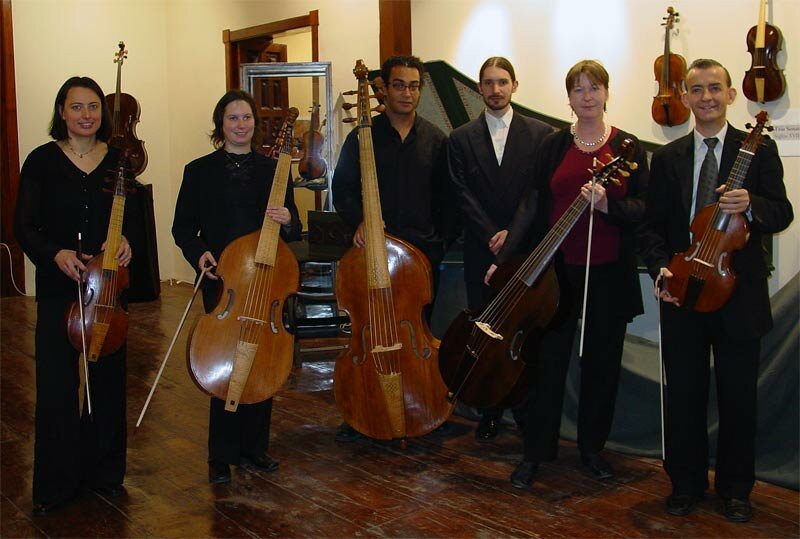 In concert at Tenerife (E), January, 2006
Lúcia Krommer, Eva Fürtinger, Hector Castillo,
Vit Bébar, Susanne Braumann, José Vázquez
Festival de Froville, 2009
José Vázquez, Vit Bébar, Lúcia Krommer, Susanne Braumann,
Christine Esser, Kunihiro Mimura, Eva Fürtinger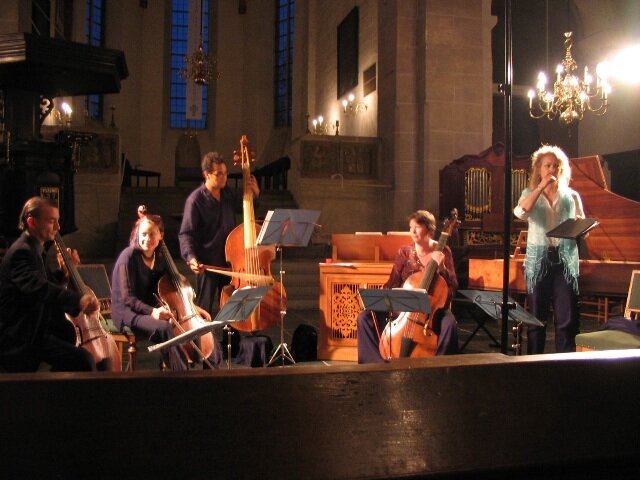 Utrecht Festival , 2008
José Vázquez, Lúcia Krommer, Hector Castillo,
Susanne Braumann, Christine Esser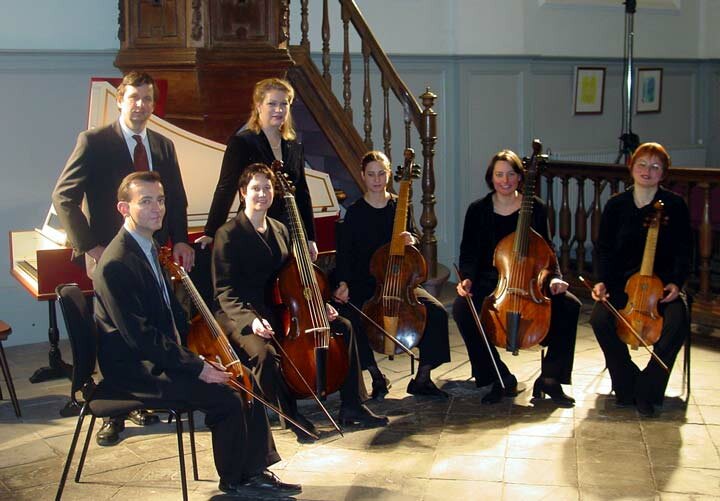 In concert at Maastricht (NL), January, 2003
Guy Penson, Christine Esser,
José Vázquez, Eva Fürtinger, Margit Meckel, Lúcia Krommer, Christa Opriessnig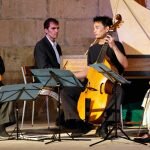 Festival in Vignogoul (Montpellier), 2010
José Vázquez, Achim Schulz, Kunihiro Mimura, Lúcia Krommer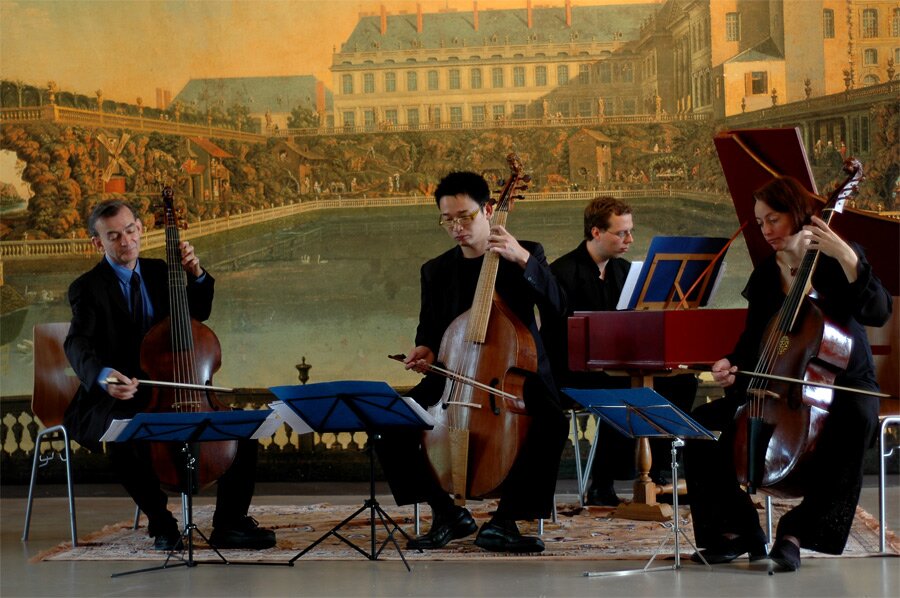 José Vázquez, Kunihiro Mimura, Donat Deaky, Lúcia Krommer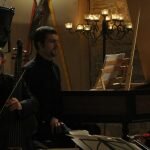 Château de Cassan, France, 2011
José Vázquez, Ewald Donhoffer, Lúcia Krommer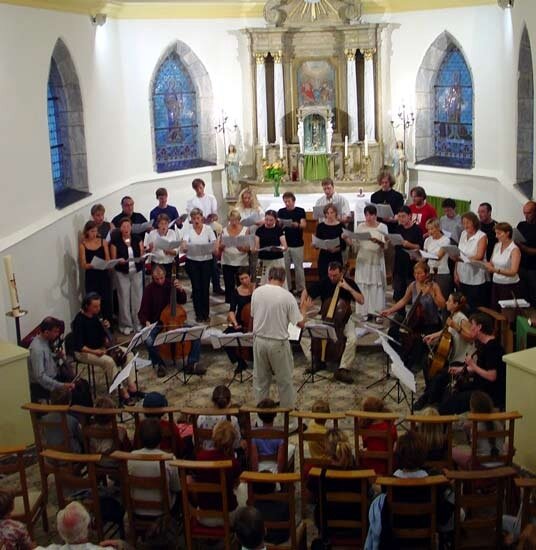 Florian Heyerick & Ex tempore Choir (Gent, Belgium)
Orpheon Consort
José Vázquez, Lúcia Krommer, Christian Zincke, Eva Fürtinger,
Christian Drechsel, Christa Orpiessnig, Margit Meckel, Susanne Braumann
---
Our ensemble performs music from the Renaissance, the Baroque and the Classical Periods on a collection of historical musical instruments which encompasses over 200 violas da gamba, violas d'amore, violins, violas, violoncellos, violones and historical bows from between 1560 and 1800 by the finest makers from Italy, Germany, Austria, Flanders, Holland, France and England. The European Community awarded Orpheon a grant (Culture-2000, Mozart-Call) to present exhibitions, courses and concert series on these instruments in Austria during 2007. In 2009 exhibitions took place in the Torre Medieval in Basauri (Spain), in the Château de Lunéville (France) and in the Parador Nacional in Cuenca (Spain). Since 2010 the collection has been on exhibition at the Castello di Duino (Italy), where courses and concerts are held.
---
SELECTED PROGRAMS
Music by Purcell, Dowland, Byrd, Gibbons, Lawes, Morley. An evening full of atmosphere.
The great masters of Spanish Polyphony: Cristobal de Morales, Tomás Luís de Victoria, Francisco Guerrero, Diego Ortiz and others
The splendid musical heritage of the Austrian Court during the reign of Leopold I (1640-1705): Sonatas, concerti grossi and vocal works by Biber, Muffat, Legrenzi, Fux, Bononcini, Attilio Ariosti, Marc' Antonio Ziani.
Music for baryton, viola da gamba, viola and violoncello by Haydn, Lidl, Hammer and others – a delightful evening of eloquent chamber music. (Compact disc available)
Concert at the Musée Calvet, Avignon, 2006
The music that the eight-year old lad heard in London during his trip in 1764, described in the chronicles of the time. Music by Carl Friedrich Abel, Johann Christian Bach, Georg Friedrich Händel and others
His musical thoughts revealed – a complete performance with commentaries about Bach's musical language, symbolic figures, meanings of the key and time signatures.
A viola da gamba from 1500 tells the story of its life: a vivid narration of its birth in Brescia and travels in Italy, Spain, England, Germany, until the death of Carl Friedrich Abel in 1787. With projections of the works of art, historical monuments and personages that the viol saw during those first 300 years.
Concertos by Bach, Vivaldi, Corelli, Telemann, Handel, including some very rarely heard concertos for viola da gamba, viola d' amore and lute.
Works for Baroque Orchestra, like Opera by Händel or Symphonias by Haydn
Virtuoso music for one viola da gamba and chamber orchestra.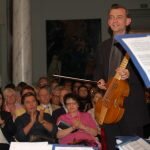 José Vazquez with the treble viola da gamba by William Turner, 1656
Musée Calvet, Avignon, July, 2006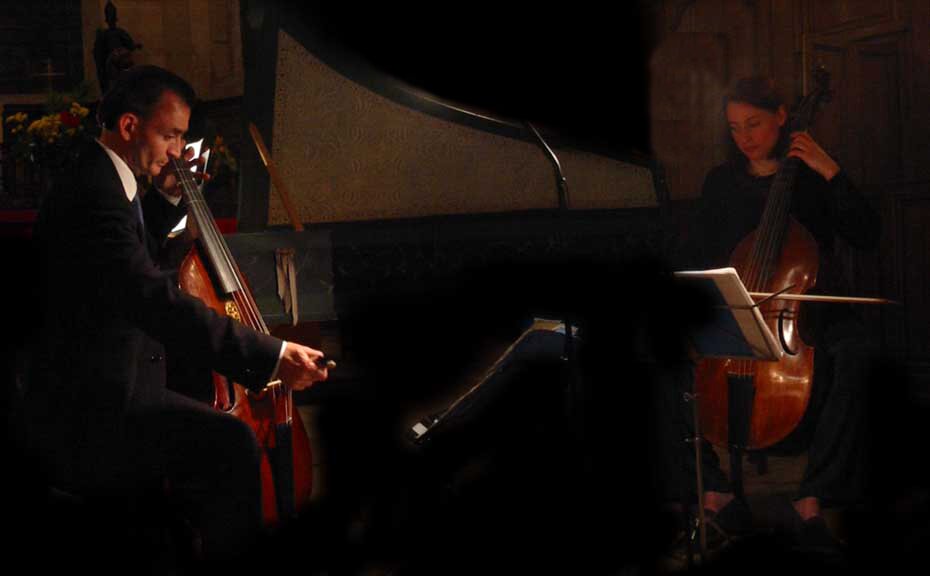 José Vázquez & Lúcia Krommer
Barockmuseum Salzburg, 2007