Viola da gamba Bass
Giovanni Paolo Maggini (Brescia, c. 1600)
Catalog 99. Viola da gamba, bass, Giovanni Paolo Maggini – Brescia, um 1600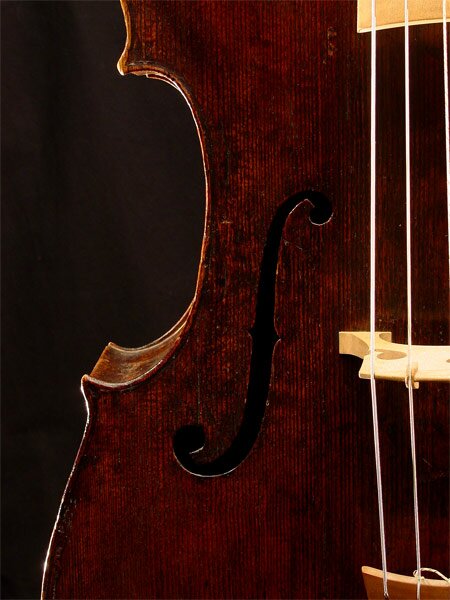 The top is made out of four strips of wood:
two central ones, joined in the middle, and two wings
Again we are dealing with a magnificent and very rare example (there are two in the world) of the art of violin making in Brescia, which at the time was part of the Venetian Republic, from one of the outstanding violin makers of all times, Giovanni Paolo Maggini, pupil of Gasparo da Salò. Since the top was formed out of four planks of wood dendrochronology cannot be carried out on this instrument, therefore we base the attribution on Charles Beare, London.
The proportions and the design of the body of this viola da gamba bestow upon it a majestic presence. Viols in the form of violins were often built not only in Italy, but also in diverse other countries. In his treatise, "The Division-Violist" of 1659, Christopher Simpson, perhaps the most important pedagogue for his instrument, recommends this form above the others, stating that the sound is "sprightly, like the violin". Although the back of the Maggini viol is flat, this is not necessarily the case: the viols by Grancino, Boivin and Tielke, all in this collection, have shaped backs, like the violins.
The appearance of the Maggini is majestic and aristocratic; this shows that the luthiers invested all of their powers to create an instrument which not only produced a sound delectable for the human ear, but which would also please the aesthetic criteria of the human eye. Nevertheless it would be a crime to enclose this instrument in a glass case never to be heard again: it would be a great loss for musician and public alike.
A very similar instrument in painting:
The dendrochronological investigations of the University of Hamburg (Dr. Peter Klein and Dr. Micha Beuting) revealed that the annular rings of the wood of the top came from the 1352 to 1564, thus certifying the authenticity of the age of this instrument.
See also the treble viol by Giovanni Balla Bugger, which has a similar outline
Dendrochronological analysis
Bericht über die dendrochronologische Untersuchung einer
Viola da gamba-Decke von Maggini, Giovanni Paolo (Instrumentenzettel: Gio: Paolo Maggini in Brescia)
Privatbesitz Prof. Vázquez

---

Bei der vierteiligen Decke wurden auf der Diskantseite 74 Jahrringe und auf der Bassseite 70 Jahrringe gemessen.

Eine Datierung ist zur Zeit leider nicht möglich. (zu wenig Ringe)

Beide Seiten stammen aus demselben Baum.

i.A. Micha Beuting

Prof. Dr. Peter Klein
Ordinariat für Holzbiologie
Universität Hamburg

Report on the dendrochronological analysis of a
viola da gamba top by Maggini, Giovanni Paolo
(Label: Gio: Paolo Maggini in Brescia)
Private property of Prof. Vázquez

---

On the two-part front were measured 74 year-rings on the treble side and 70 year-rings on the bass side.

A dating is not possible at this time. (too few rings)

Both sides of the top came from the same tree.

Micha Beuting, on behalf of

Prof. Dr. Peter Klein
Ordinariat für Holzbiologie
Universität Hamburg
For further readings on viols in the shape of violins, see:
Violas da gamba in the shape of the violins, but with sloping shoulders
Violas da gamba in the shape of the violin
Stradivarius and the viola da gamba
Violas da gamba with violin corners
The Italian Renaissance and Early Baroque viols in concert
Music for Charles V and Philip II – Diego Ortiz: Recercada Quinta Pars
| | |
| --- | --- |
| Body length | 727 mm |
| Upper width | 365 mm |
| Middle width | 257 mm |
| Lower width | 458 mm |
| Rib height | 119 mm |
| String length | 716 mm |