Viola by Sebastian Dallinger
Vienna, ca. 1780
Catalog 44. Viola – Sebastian Dallinger – Wien, ca. 1780
This viola is in perfect original condition: neck and fingerboard are from Dallinger, too. It was never changed in the 19th C. Ludwig van Beethoven owned and played on a viola by this very fine Viennese luthier.
The viola by Dallinger can often be heard in the concerts of Orpheon Consort, particularly in the trios for baryton, viola and violoncello by Haydn, Lidl, Tomasini and others. But the viola participates in the orchestra concerts, too.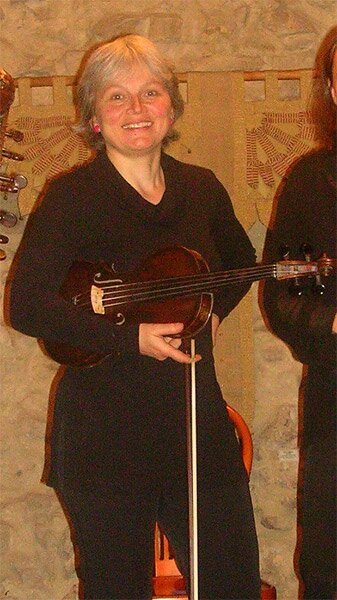 Although Christa Opriessnig is from Graz, she is now living in Vienna and very often performs on this viola. She is a founding member of Orpheon, and as such, has complete access to not only a number of violins and violas in the collection, but also to the violas da gamba: YES, she, too, plays the viol! She is portrayed here with the Dallinger viola, although she often performs on the wonderful instrument by either Nikolas Leidolff or his son, Johann Christoph. Therefore I am not allowed to lend either of these two violas out to anyone else (without her permission)!
Here, however, the viola can be seen in the hands of Jan Tegtmeyer, at the concert of June, 2008 at the Castle of Kremsegg, Austria:
| | |
| --- | --- |
| Body length | mm |
| Upper width | mm |
| Middle width | mm |
| Lower width | mm |
| Rib height | mm |
| String length | mm |