Double Bass by Jan Uldaricus Eberle
Prague, 1750
Catalog 72. Violone (double bass) with 4 strings – Johannes Udalricus Eberle – 1750
This violone of majestic appearance – in this case, a four-string double bass, by Eberle – is completely in original condition, including the machine heads for tuning, the tailpiece, the fingerboard, the neck. Only the bridge has been replaced. The wood used in its construction is very plain, which probably indicates that it was destined rather for use in the musical establishment of some church rather than at court. Indeed the generous dimensions of this instrument would also point to its use in a large space. The sound of this double bass is so rich, so full and majestic that it can easily completely metamorphose a 40-man orchestra. The sound holes are in the form of snakes or flames, typical of the Austrian – South German Region.
This violone is employed regularly in the Orpheon Baroque Orchestra but is also lent out to other ensembles all over Euorpe.
Playing this instrument completely changes the sound of a complete orchestral ensemble. One has to hear it to believe it!
This violone has been often played by Hector Castillo,
from Madrid, Spain, a regular member of the Orpheon Consort
and Orchestra. He also employs the Violone in G.

Martin Hoflinger, a member of the Orpheon Consort,
in concert: Salzburg, 2008
But sometimes…
But sometimes, other musicians cannot resist the temptation to try their hands at it!
Like here, at the exhibition in Tenerife.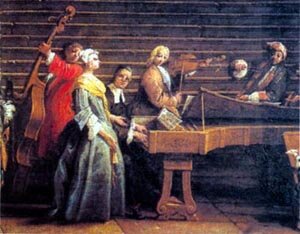 Here a similar instrument, although quite a bit smaller than the Eberle,
performing the basso continuo of a cantata together with a small number of string instruments.
| | |
| --- | --- |
| Body length | mm |
| Upper width | mm |
| Middle width | mm |
| Lower width | mm |
| Rib height | mm |
| String length | mm |