Viola by Johann Christoph Leidolff
Vienna, 1719
Catalog 40. Viola – Nikolaus Leidolff (um 1650 – um 1710)
 Ettiquette: Johann Christoph Leidolff – Wien, 1719
The top of the back, showing the button, covered with the remains of the reddish wax seal of the original owner, a cloister in Austria. The seal originally covered the whole region under the button, now visible as a slightly lighter coloured area.
Whether this splendid viola was made by the father, Nikolas or by his son is not certain. The son possibly set his ettiquette in the instrument after the death of his father. The back was described by Daniel Draley as "One of the finest backs I have ever seen outside of Italy". According to him, it reminds one of the work of Vincenzo Ruggieri, thus substantiating the theory that Nikolas learned his trade in Cremona.
Nikolaus Leidolff saw the light of day in 1650 in Milano, then learned his trade in Italy. After his journeyman's years in Italy and Switzerland, he settled in Vienna, married the widow of his Master, Isaak Ott from Füssen in 1672 and took over the workshop. The quality of his work and the excellent sounds of his instruments earned him an international reputation way beyond the frontiers of the Habsburg Empire. His son, Johann Christoph, and his grandson, Joseph Ferdinand, carried on the family tradition until the end of the 18th C.
Johann Christoph Leidolf (1690-1758) learned his trade most likely under his father, Nicholas Leidolff, the founder of this highly significant dynasty of Viennese violin-makers, who, in turn, either learned with Kögl or – perhaps more likely, judging from his work – acquired his knowhow directly in Italy. Although the instruments by Johann Christoph cannot deny their debt to the omnipresent influence of Stainer North of the Alps, his varnish and the scrolls point dicidedly towards his native city. The generous outlines of the body, the arching and the deep ribs endow these instruments power and carry but not forefeiting its Viennese charm.
The back inspired the following comment from an American expert, Daniel Draley:
"Back amazing – one of the two or three finest backs I've seen outside of italy. Student of Vincenzo Ruggieri, 1710-1715? Inspiring!"
By virtue of its formidably rich tone, whose carrying power is evident even when playing in the orchestra, this viola is emminently suited for the baryton trios of Haydn and the string quartets of the Viennese masters.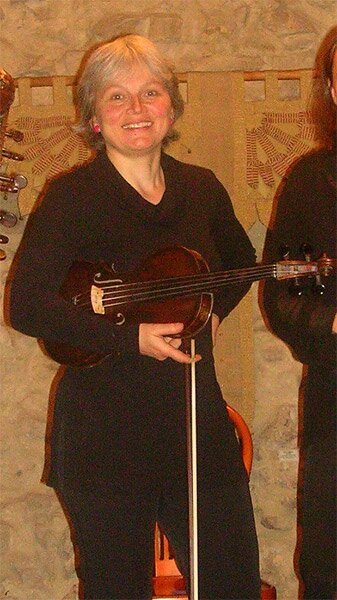 This instrument is permanently under the watchful eye of Christa Opriessnig, from Graz, now living in Vienna. She is a founding member of Orpheon, and as such, has complete access to a number of violins and violas in the collection, one could say, at will! However, although portrayed here with the Dallinger viola, she prefers this wonderful instrument by either Nikolas Leidolff or his son, Johann Christoph. Therefore I am not allowed to lend it out to anyone else (without her permission)!
However, on occasion, other members of the Orpheon Orchestra are allowed to use this marvellous viola. Here Sheena Kiss – Leitner, during one of the rehearsals
| | |
| --- | --- |
| Body length | 419 mm |
| Upper width | 185 mm |
| Middle width | 123 mm |
| Lower width | 237 mm |
| Rib height | 38 mm |
| String length | 387 mm |