Viola da gamba Bass
Johann Seeloss (Linz, 1691)
Catalog 106 – Viola da gamba, bass, Johann Georg Seeloss, Linz, 1691
Johann Seeloss (Innsbruck, 1654- Linz, 1715) belonged to a violin-making family from Füssen, whose members worked in such diverse places as Innsbruck, Linz, Vienna and Venice. The present viola da gamba is in an exceptionally good state of preservation, which is reflected in the excellently rich and powerful sound it is capable of producing. Dendrochronology has shown that the youngest year-ring dates from 1668.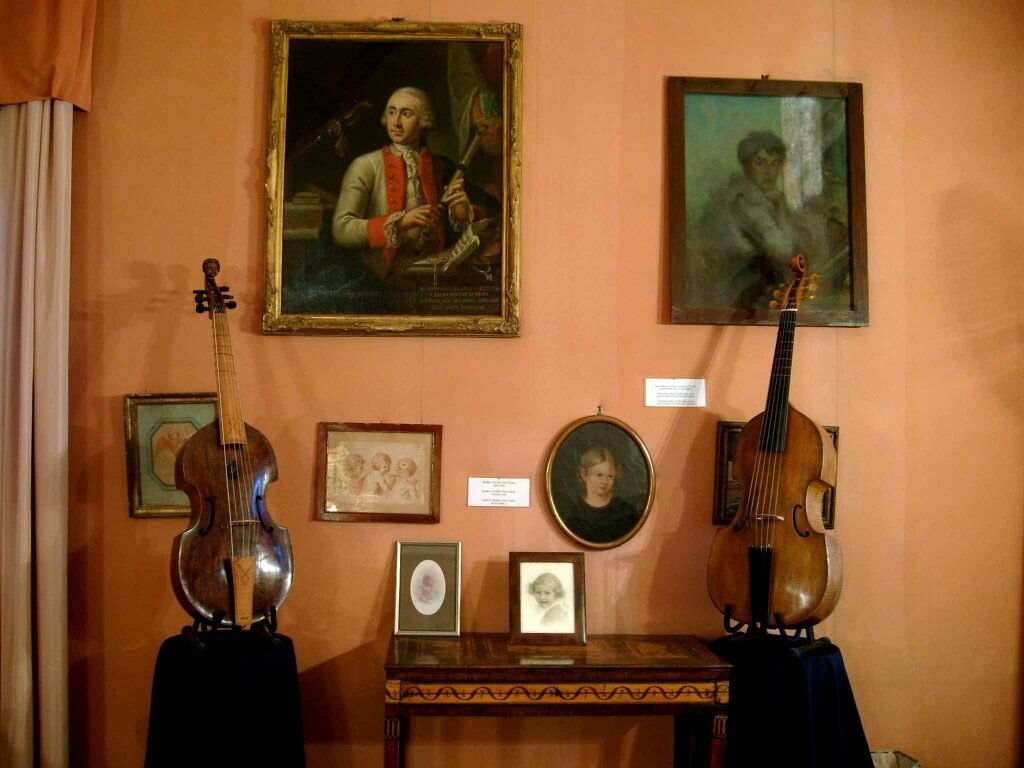 Violas da gamba by Nikolas Leidolff & Johann Seeloss at the Castello di Duino, Italy, 2010
In 1696 Johann Seelosss submitted a request to the Emperor for a privilege to be the sole violin-maker in the Region named Österreich ob der Enns. In spite of the protest of the local authorities he was awarded this privilege, which remained in the family until 1742.
Two barytons by Seelos (1679, 1684) and a violin can be seen at the Landesmuseum in Linz.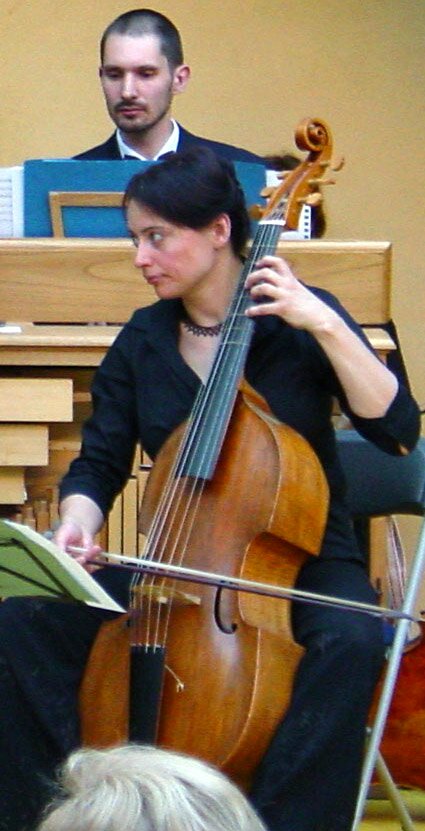 Lúcia Krommer performing on the viola da gamba by Johann Seeloss
at the Castle of Kremsegg, Austria, June, 2008.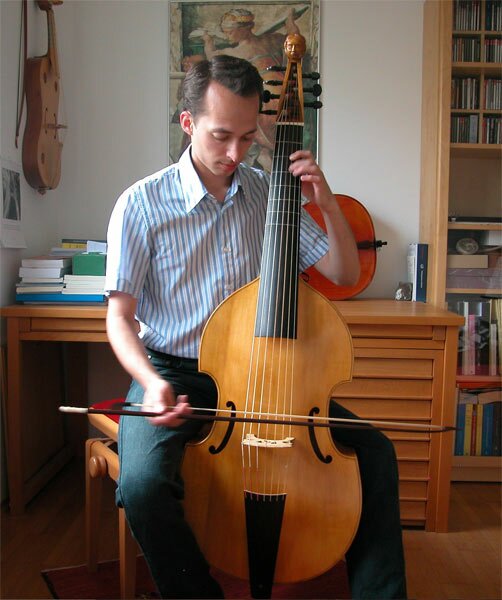 Wolfram Bauer studies law at the University in Linz, Austria, which does not mean that he does not have time for music or the fine arts: one simply has to make time for this, too. He performs regularly on the viola da gamba, as well as the Baroque violoncello.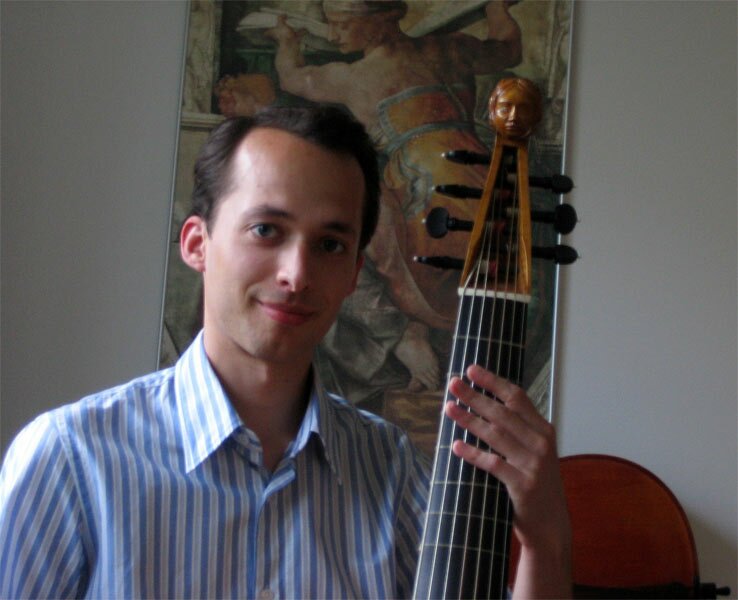 Wolfram had the bass viola da gamba by Seeloss at his disposal until he finally received – quite recently – this seven-string viol which he can call his own.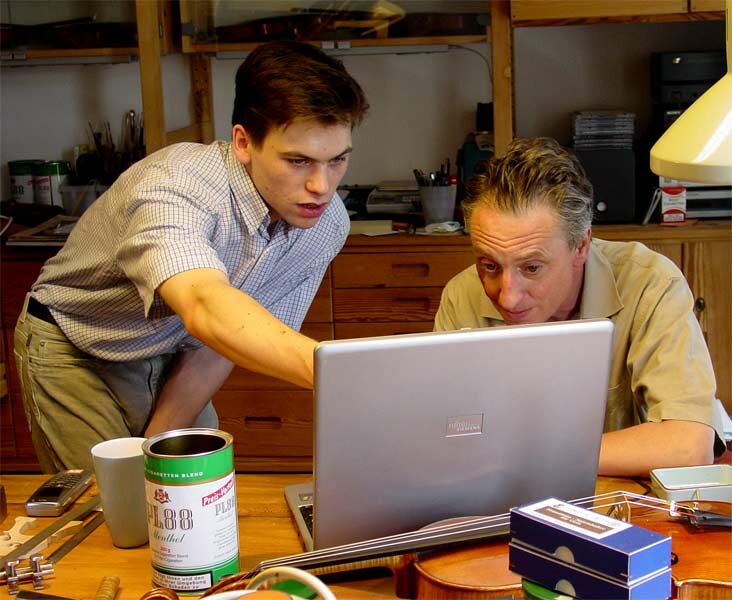 The viola da gamba by Seeloss was for some time in the hands of Roland Houël, in Mirecourt, France. He, too, is waiting for the completion of his very own viola da gamba, which, by the way, he is making himself! Roland has now completed his studies at the Violin-making School of Mirecourt and has learned restoration at the Atelier of J. M. Schmitt of Lyon. Roland Houël has built a magnificent violoncello designed on the original dimensions of the Andrea Amati instrument now preserved in the Shrine to Music Museum.His copy of a viola da gamba by Tielke will soon be finished. Here Roland explains his new theory on the bending of the backs of Tielke viols to the German violin-maker and expert, Marcel Richters, in Vienna, June, 2006.
Dendrochronological analysis
(Dendrochronology is the science of dating objects made out of wood by measuring the year rings in the wood used in the object's construction and comparing the results to data banks collected for this purpose. This methods establishes with reasonable certainty a date before which the instrument could not have been made. Most violin makers use woods which have been aged for about five to ten years.)
Bericht über die dendrochronologische Untersuchung einer
Gambendecke von Seelos, Johann
(Instrumentenzettel: Johann Seeloß in Linz 1691),
Privatbesitz Prof. Vázquez

---

Bei der zweiteiligen Decke wurden auf der Diskantseite 198 Jahrringe und auf der Bassseite 205 Jahrringe gemessen und mit einer Fichtenchronologie für den Bereich Alpen datiert.

Dabei konnte die Diskantseite zwischen 1465 und 1662 und die Basseite zwischen 1464 und 1668 eingeordnet werden. Somit stammt der jüngste auf der Decke gemessene Jahrring aus dem Jahre 1668.

Bei einer minimalen Lagerzeit des Holzes von einem Jahr kann die Decke frühestens ab 1669 entstanden sein.

Beide Seiten der Decke stammen von demselben Baum.

i.A. Micha Beuting

Prof. Dr. Peter Klein
Ordinariat für Holzbiologie
Universität Hamburg

Report on the dendrochronological analysis of a
viola da gamba top by Seelos, Johann
(Label: Johann Seeloß in Linz 1691)
Private property of Prof. Vázquez

---

On the two-part front were measured 198 year-rings on the treble side and 205 year-rings on the bass side and were dated with a spruce chronology for the Alpine region.

Thus the treble side could be dated between 1465 and 1662 and the bass side between 1464 and 1668. Therefore the youngest year-ring present on the front comes from the year 1668.

Considering a minimal time for curing the wood of one year, the front could have been made in 1669 at the earliest.

Both sides of the top came from the same tree.

Micha Beuting, on behalf of

Prof. Dr. Peter Klein
Ordinariat für Holzbiologie
Universität Hamburg
| | |
| --- | --- |
| Body length | 719 mm |
| Upper width | 309 mm |
| Middle width | 220 mm |
| Lower width | 405 mm |
| Rib height | 130 mm |
| String length | 702 mm |