Oil painting on canvas
Bonifazio Veronese (or copy?)
Italy, first half of the 16th C.
Detail of a scene of music-making in a garden
Catalog 140 – Painting by Bonifacio Veronese (1487, Verona – 1557, Venezia)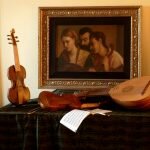 A complete painting showing these three figures and several others is to be found in the Accademia in Venice. This details shows three Renaissance musicians in early 16th C. attire totally immersed in the mood of the music they are performing. The lady plays a small lute, the gentleman in the foreground a bass viola da gamba with a scroll and pegbox typical of Venetian instruments of this period. The figure in the background in this version is portrayed as a singer, however in the original in Venice he is shown with a recorder.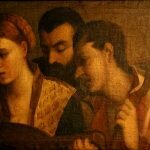 Veronese made the design to this painting. A copy exists also in the Museo dell'Accademia in Venice.
He succeeded in capturing the atmosphere of the performance: the musicians are totally submersed in their playing, appear to be in a spell.
One may ask:
"Isn't it strange that sheeps' gut should hale souls out of men's bodies?"
William Shakespeare (Much ado about nothing)