Music Course
Duino, august 30 – september 8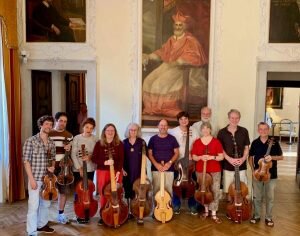 LAST OPPORTUNITY TO SEE THE LARGEST VIOLA DA GAMBA COLLECTION IN ITALY.
In August, 2020, the collection will be displayed in SCHLOSS BRAKE, Detmold, Germany.
The Orpheon course will take place there, in August-September of 2020.
www.museum-schloss-brake.de
The significant recent acquisitions have made this collection the largest and most significant in the world. Contrary to the other museum collections (Paris, Brussels, Copenhagen, our only competitors), all the viols in the Orpheon Foundation have been restored and can be employed in the performance of music of the Renaissance, Baroque and Classical Periods.
The course concentrates on Consort Music for viols, violins and voices. The participants will perform exclusively on the original historical musical instruments of the Orpheon Foundation. Participants are not allowed to bring their instrument unless it is at least 250 years old! 😊
Fluent sight-reading in the usual clefs required.
Here a gallery of photos:
During the lessons
Instruments and the castle
Relaxing moments
Concert
and some videos of the concert
---

Georg Philipp Telemann, Sonata in g-minor
Jean-Marie Leclair, Sonata in D-major
Sainte Colombe, Les Batteries
Sainte Colombe: Concert les regrets
Johann Schenck